If you've ever attempted to repair a dead Commodore 64 beadbin, you know how frustrating it can be. You're lucky if the machine turns on and shows something on the screen. This at least gives you some clues as to the problem. However, more often and not, you're stuck with a blank screen. It doesn't tell you much other than just about any chip in the computer is bad, or even a bad power supply. After checking the obvious things like missing chips, reseating socketed chips and checking the power supply voltages, the next place to go would be one of the two diagnostic carts that were available from Commodore service technicians.
The two test carts that were available are the C64 Diagnostic cart and the C64 Dead Test cart. Together, these carts are very useful in identifying problems. In order to use them, you need them in a cartridge. The diagnostic cart also had a cable harness that would test certain ports– it's not required but will report false problems if not present. If you've followed my posts, you'll know that I have a tutorial on how to convert an existing cartridge into a EPROM carrier board. In this case, instead of creating a 24 to 28 pin adapter, I've purchased the Retro Innovations 2364 Adapter for $5. It's well worth the price.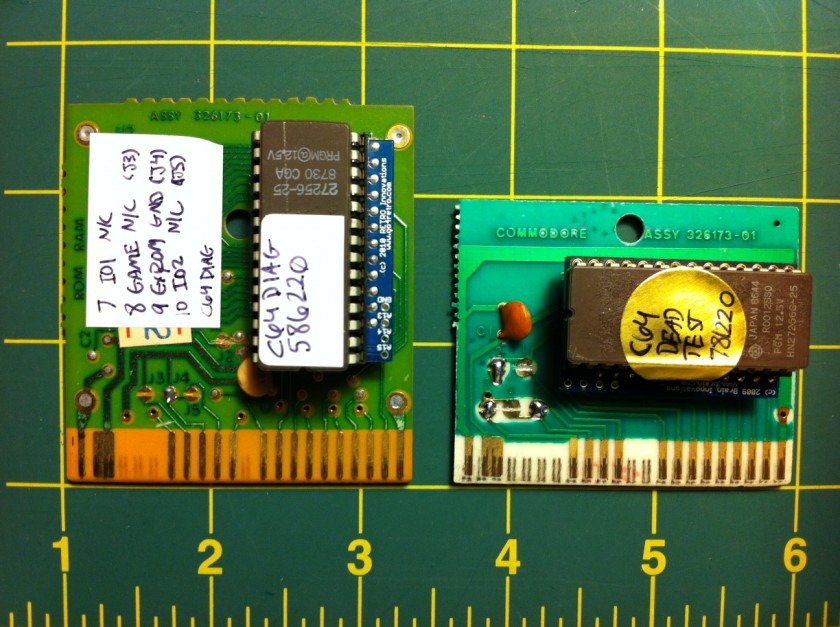 In both cases, I've used a Commodore cartridge with ASSY # 326173-01. The thing you'll find odd about the picture is the carts look completely different but have the same ASSY number. The good news is they behave the same way.
There are solder jumpers on the cart labeled J1 through J5. These control certain lines on the cartridge port that tell the C64 what type of peripheral is connected. Below is a table of the settings for the two carts.
C64 Diagnostic Cart Jumpers
J1: Closed (ROMH)
J2: Open (ROML)
J3: Open (GAME)
J4: Closed (EXROM)
J5: Open (I/O 2)
C64 Dead Test Cart Jumpers (Ultimax Mode)
J1: Open (ROMH)
J2: Closed (ROML)
J3: Closed (GAME)
J4: Open (EXROM)
J5: Closed (I/O 2)