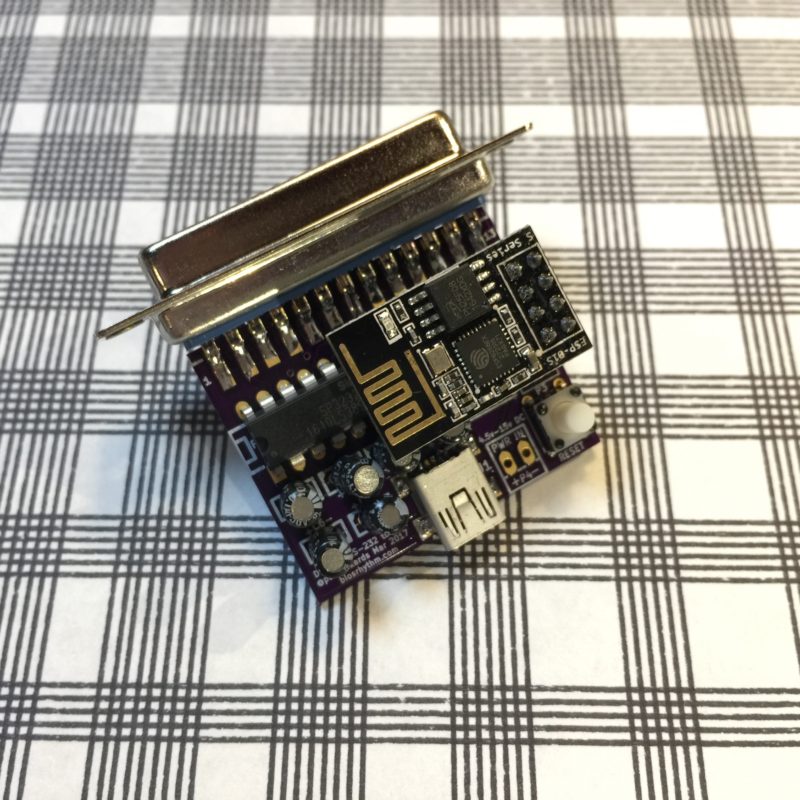 The WiFi232 Internet Modem is here and available in limited quantities.
The WiFi232 Internet Modem features:
Standard DB25 female RS-232C connector (DCE).
Supports 300 to 115200 baud.
Emulation of a Hayes modem, using standard (and non-standard) Hayes "AT" commands.
Storage of settings and 10 speed dial addresses in flash memory.
Accepts inbound connections on customizable TCP port (produces "RING" response).
Automatically responds with a customizable busy message when already in a call.
Supports Commodore PET "MCTerm" character set translation (requires custom cable, interface).
Hardware and software flow control supported (one direction only– retro PC can pause incoming data).
Hardware flow control is RTS or DTR selectable with solder jumpers.
DTR + DCD  and DTR + DSR loopback solder jumpers (RS-232C side only).
Over-the-air firmware updates.
Telnet negotiation support.
Built-in web server, MDNS support, and WiFi access point for easy configuration.
Powered by a USB mini jack or solder terminals for your own power source.
A PDF manual.
The WiFi232 Internet Modem lacks:
Support is lacking for DCD (data carrier detect) and RI (ring indicator).
No password protection of web server configuration (but can be disabled completely).
Price & Shipping:
Available fully assembled for $55.
USPS First Class shipping to USA is included with tracking number (non-insured).
USPS First Class International everywhere else for +$20 tracked (non-insured).
If your shipment is lost or never arrives, you should contact your postal service and provide the tracking number for assistance.
Orders ship in about a week.
Order Policies
Please read this section carefully.
International orders: The CN22 customs form will be listed as type "merchandise" with HS Code 8473 with actual sales price. You may be responsible for additional VAT or import taxes. Do not ask to have the item listed as "gift"– your order will be canceled.
Orders that need to be canceled before shipping for reasons such as changed your mind, wrong shipping address, or CN22 type dispute will be subject to a $3 fee. Sorry, PayPal dings me to just return your money!
Order Here
The WiFi232 modem can be purchased below. I do not sell pre-orders. I only sell what I've built so far to ensure all orders can be fulfilled. If it's listed as sold out, don't worry– I'm busy making more for you. Follow @paulrickards on Twitter where I announce when more are available.
Manual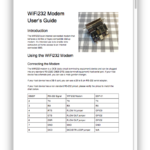 WiFi232 Internet Modem Manual (.PDF) Updated July 7, 2017

Discover new boards to call by visiting the Telnet BBS Guide.
The list of verified, compatible computers:
Atari Portfolio (with serial interface and 9 to 25 pin serial adapter)
Atari 520ST and 1040ST
Amstrad NC100
Texas Instruments TI-99/4A
Tandy TRS-80 Model 102 (with 25 pin gender changer)
Apple IIgs (with mini DIN to 25 pin serial cable)
Atari 800XL (with Atari 850 serial interface and appropriate cable)
Amiga 1000 (with 25 pin gender changer)
Amiga 2000
Amiga 1200
Macintosh SE
Macintosh SE/30
Digital VT220 and VT240 Terminal
Apple IIe (with serial card)
IBM 486-compatible (with 9 to 25 pin serial adapter)
Don't see you computer listed? It will likely still work if it has a standard RS-232 serial port.


Reviews/Discussion