I collect and use a variety of vintage pen plotters. My favorite type are the gantry style which are typically made by Roland. The DXY series of plotters were made to sit on top of a table, either laying flat or at an angle using the provided triangle wedges or built in kick stand.
When laying flat on a table, they tend to take up a lot of desk space. I wanted to be able to use multiple pen plotters, but stack them vertically.
I've been a big fan of IKEA's Ivar shelving system and thought it would be a good starting point for a "rack" system for pen plotters.
We started with two IVAR side units (20×89″) and one cross-brace. When assembled, it will look like the unit below (minus the shelves).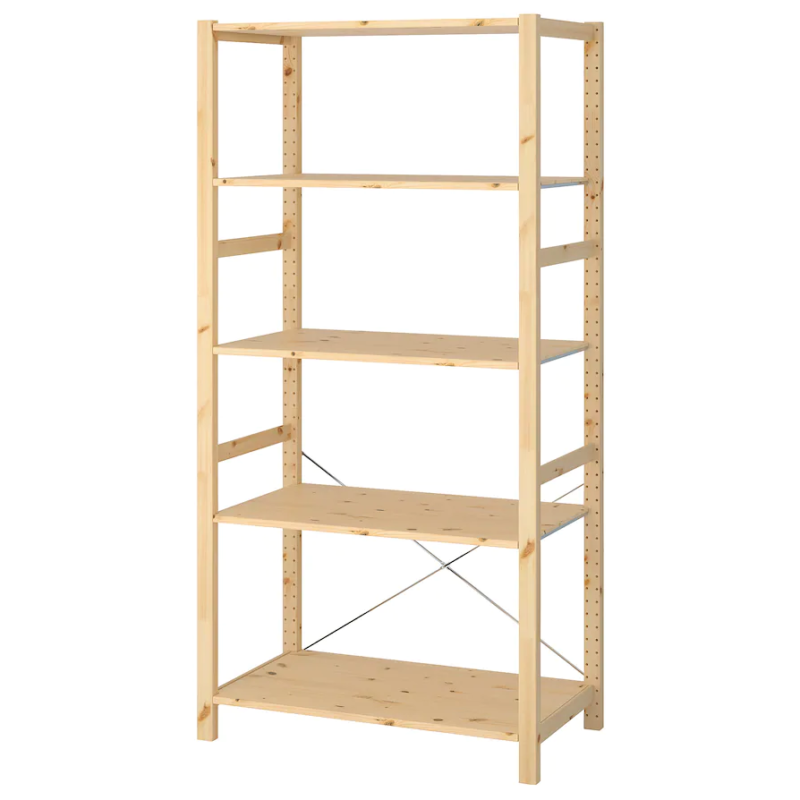 For the shelves, I originally thought about using the standard IVAR shelves (33″x20″) but they would need to be modified by cutting off the two side pieces of the shelf (marked in red in the image below). Since I'd have to use a table saw anyway, I opted for simple glue-edged pine shelving from Home Depot and ripped them to size (31.5″x 19.75″).

To mount the shelves to the Ivar side units, we used poplar stock (1.5″x1.5″) inside the Ivar side units. We then drilled holes in the ends of the poplar that align with the Ivar holes. This allows the shelf to rest on short pieces of all-thread that act as the pins allowing it to be relocated later. An L bracket secures the top of the poplar from moving. From there, 18″ full extension undermount soft-close drawer sliders are attached to the poplar inside the shelving unit.
The trickiest part is getting the alignment right so the shelf closed flush with the front of the Ivar shelving. We used a paper template to mark the mounting locations under the shelf.
And the finished Ivar unit now holds four vintage pen plotters. The bottom one is so large, it sits on a shelf that rolls on the floor with casters (not attached to the side units).
From top to bottom: Roland DXY-990, Roland DXY-1200, Roland DXY-1150, HP 7550+, Roland DPX-2000.
I spaced the shelves apart so the machines could function with the shelf slid back into place. This allows me to access a plotter while others are working.
Did you build sliding shelves in IKEA Ivar? Let me know in the comments!