In my last post, I showed that I could use my homebrew C64 USB keyboard with the iPad using the Camera Connection Kit. What was interesting was when I opened iMAME (you were lucky enough to snag it, right?) and accidentally pressed keys on the keyboard. iMAME said it was enabling iCade mode. I thought this was interesting and looked it up.
iCade connects via Bluetooth and acts as a Bluetooth keyboard. My keyboard was connected via USB. Could a USB keyboard work to control games on the iPad? Maybe the connection type didn't matter? Could I create an adapter that connects via USB and lets you use standard game controllers in iMAME?
iCade sends key strokes when a button is pressed and once again when it's released. The keys are documented for developers. I launched iMAME again with the USB keyboard plugged in to confirm and as expected the keys worked to control the games.
The next part was pretty straight forward. Make a USB keyboard with an Arduino (see previous post on how this was done) but instead of an actual keyboard matrix, use a game pad. I chose to use my trusty original NES game pad since they're so easy to interface with.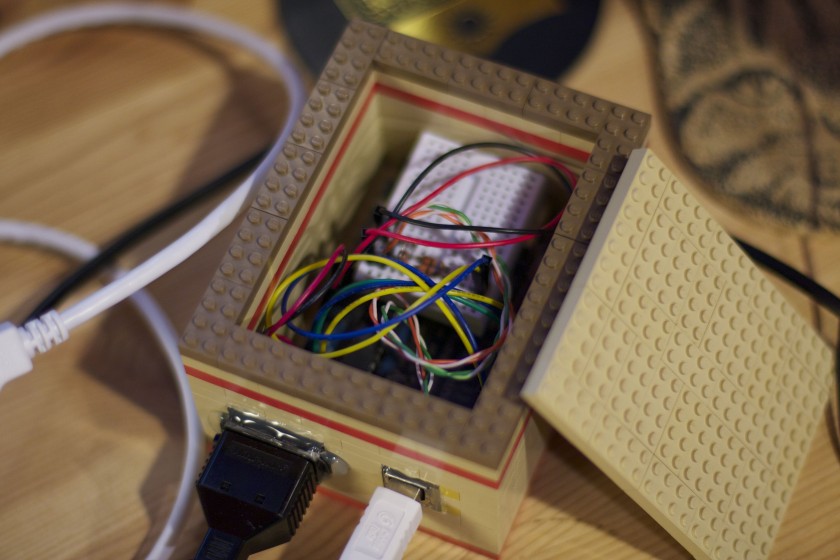 I threw together a quick case from LEGO and hot glued in two jacks, one for the NES controller and one for USB. The iPad powers the Arduino and the NES controller so no power supply is needed.
And there you have it, a DIY NES Gamepad to iPad via USB adapter. I'll post the code later when it's been cleaned up a bit. The only other game I've tested was Atari's Greatest Hits and it seemed to work fine. In theory, any game that supports the iCade should work.